CREOCell – funded lithium ion battery research project
Creonia Cells GmbH has developed a new proprietary patented roll-to-roll process to manufacture freestanding battery anodes, cathodes and separators up to 2m in width. All common battery active materials such as graphite, carbon black, Lithium iron phosphate, Lithium metal oxides, Silicon and many more can be used. The process is fast, has no toxic solvent emissions and therefore is ecologically friendly, saves investment cost, has a lower plant footprint and allows the manufacturing of thicker electrodes with excellent uniformity in area weight and thickness.
The same technology can be used to make thin separators with many different polymers such as PVDF and other high performance polymers which show outstanding high temperature properties. These CREOcell separators can be used in high safety cells to prevent catastrophic failures of a cell in the case of a thermal runaway.
In a subsequent step, Copper or Aluminium current collectors are coated on the surface of the free standing electrodes by standard roll to roll processes. The thickness of the current collector can be reduced and adjusted to the requirements of the cell for many applications and cell types, especially for low power cells in storage applications in the grid and behind the meter. Most of the time it can be made much thinner than in the state-of-the-art Lithium Ion Battery electrode manufacturing processes. This saves weight and cost in a cell. The CREOCell technology provides many steps to increase gravimetric and volumetric storage density of a Lithium Ion battery cell.
Figure 1: Anode of a free-standing CREOCell lithium-ion battery with a capacity of 4 mAh/cm2 (left), CREOCell PVDF separator, 15g/m2, porosity 58%, thickness 20µm (middle), aluminum foil laminated CREOCell LFP cathode (right ).
In 5 steps the storage capacity will be doubled compared to standard LIB cells. In CREOCell step 1 the thicknesses of the electrodes are doubled, while keeping the current collectors the same, resulting in a capacity boost of 14%. In CREOCell Step 2, 80% reduction of the current collector leads to another 12% increase in capacity.
The CREOCell technology is not limited to single layer free standing electrodes. Multilayer electrode systems, named CREOCell SEA (Separator Electrode Assemblies) can be manufactured with the same continuous roll to roll process. Because the inner sandwiched separator layer does not have to withstand mechanical stress in the LIB cell manufacturing any longer, it can be made thinner leading to further capacity increase in CREOCell Step 3, especially for the volumetric density.
The trilayered CREOCell SEA enables Bipolar Stacking of a LIB cell leading to cells with higher voltages up to 48 V by a series lamination of the trilayered systems without the necessity for wiring of many single 3,7 V cells. The final big leap in storage density of more than 50% will be CREOCell Step 5, where the graphite anode is skipped due to the switch to solid state polymer electrolytes as binders. The manufacturing cost will be reduced by up to 20% by using less Copper and Aluminium as current collectors and by saving energy and investment cost compared to a standard LIB casting equipment. First pouch cell tests show excellent cyclability of the LFP cells with low impedance, high power charging/discharging ability up to 5 C and a cell capacity loss of less than 10% for 3000 cycles.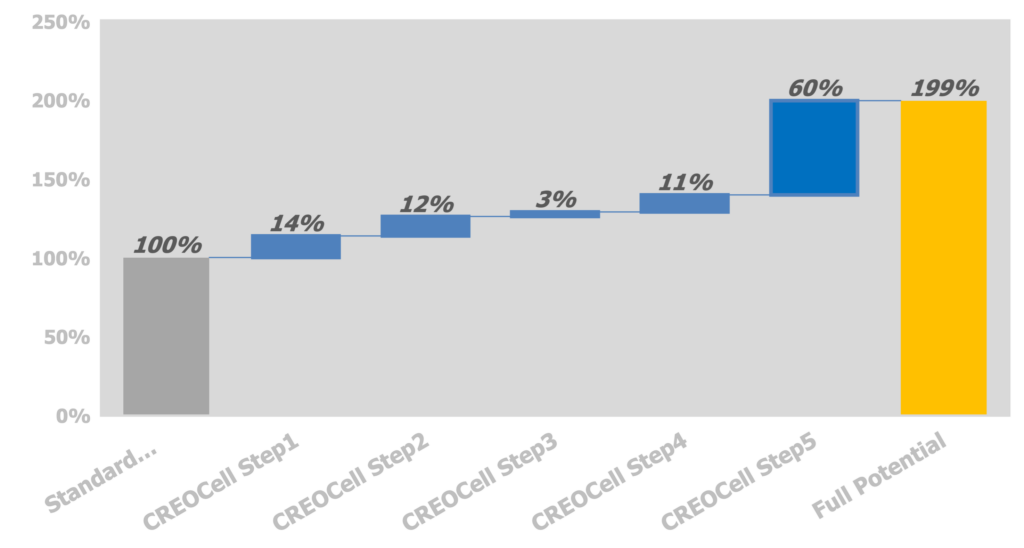 Figure 2: CREOCell steps boosting storage density of LFP batteries.
Development of novel solid electrolyte separators for Li-ion batteries based on metal-organic frameworks
This project deals with innovative developments of separator materials and their integration into the new manufacturing process of CREOCells. This is intended to improve the safety, thermal stability and high performance of LIBs. In this context, metal-organic frameworks (MOFs) with their tunable size, porosity, surface area, and electrical and ionic conductivity offer significant innovative potential for electromobility based on LIBs. The goal of this project is the development of novel separators based on thermally stable MOF/polymer composites that replace hazardous, flammable liquid Li electrolytes with a cost-effective and environmentally friendly manufacturing process.
Furthermore, through the development of the solid electrolyte (for implementation in the CREOCell technology), this project enables the fulfillment of the most important performance indicators of LIB through reduced (cell) weight, material and production costs, but at the same time an increased volumetric and gravimetric cell storage density with improved LIB services, ie with high power density and high capacity.
Biogas Plus – A new power-to-gas technology for new and existing biogas plants
Creonia has developed a new power-to-gas production process in which excess CO2 from biogas production is converted into renewable synthetic methane by means of biological methanation using hydrogen from electrolysis (operated with excess electricity). The electrolysis is operated with excess electricity from the power grid or from local wind and photovoltaic systems. The Biogas Plus plant can thus produce up to 70% more methane than ordinary biogas plants.